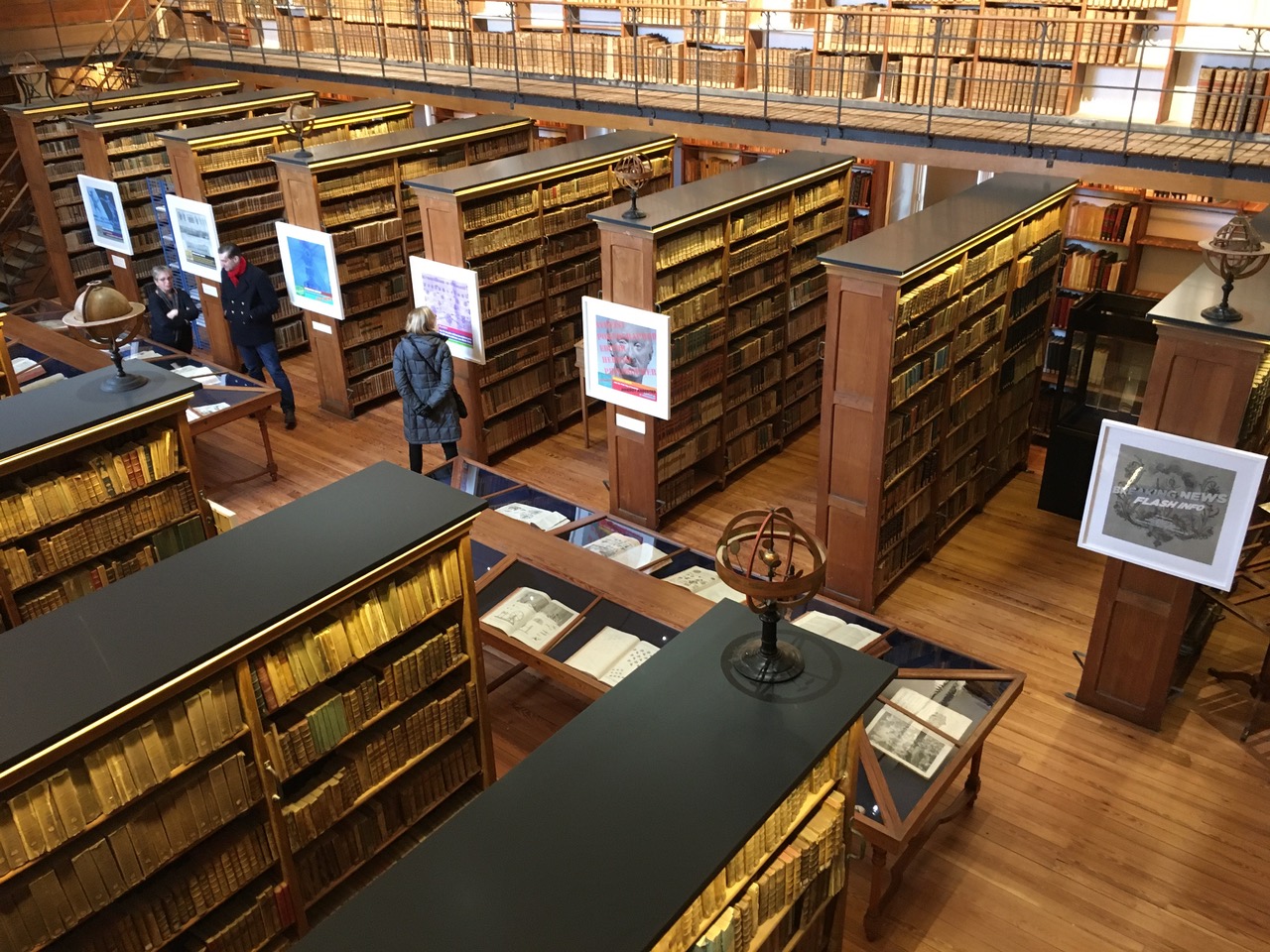 READ ARTICLE IN University of Michigan STAMPS SCHOOL OF ART & DESIGN NEWSLETTER
SEE BREAKING NEWS/FLASH INFO PRINT PORTFOLIO IN EXHIBITION
SEE A SHORTER ENCYCLOPEDIA PRINT PORTFOLIO IN EXHIBITION
SEE VIEWS OF THE EXHIBITION IN AUTUN
L'Encyclopédie et nous? Oeuvres et vidéo de Ken Aptekar (The Encyclopedia and Us ? Digital Prints and Video by Ken Aptekar), November 15, 2019 – January 15, 2020, in Autun, France, at the Bibliothèque Bussy-Rabutin
About the exhibition
Fake news, demagoguery, bullying and heartlessness dominate political life today. But back in the mid-18th century, Diderot and D'Alembert refused such irrational and dictatorial behavior and published their Encyclopédie (1751-1766). Twenty-eight volumes of commitment to facts, to anti-authoritarianism, rationalism and generosity poured from the presses. Mme de Pompadour, King Louis XV's mistress, enabled the Encyclopédie to see the light of day. With her, a whiff of feminism seeps into this project, a pointed contrast to today's sanctioned misogyny. Aptekar's exhibition in Autun, France, makes a dramatic commentary on today's shriveled political values and the revolutionary impetus of Diderot's humane project.
BREAKING NEWS/FLASH INFO (2019), eleven archival inkjet prints 80cm x 80cm, draws on images from plates in the Encyclopédie to heighten awareness of rising threats to knowledge-based reasoning, scientific evidence, and to personal freedom in the face of authoritarian manipulations.
A SHORTER ENCYCLOPEDIA (2003), six archival inkjet prints 57cm x 76.5cm, is inspired by Madame de Pompadour. Although Pompadour managed to convince Louis XV to support the publication of the Encyclopédie, the knowledge it offered the French did not include answers to questions that Aptekar thought might be central to her life. So he created a kind of appendix for her, adapting the artwork of the original publication to his own personal reveries.
The video THREE ACTS dramatizes Aptekar's transformation into Louis XV, and then into Madame de Pompadour. Filming took place on location in the private apartments of Louis XV and Mme de Pompadour in the Chateau de Versailles and in Aptekar's Paris studio. "Beyond derision and irony, Ken Aptekar uses this masquerade to address issues of love, ambition, power."–Anne-Laure Flacelière, MAC VAL Museum.
_______________________________________________________________
À propos de l'exposition
Fake news, démagogie, intimidation et absence de cœur dominent la vie politique aujourd'hui. Mais au milieu du XVIIIe siècle, Diderot et D'Alembert refusèrent ce comportement irrationnel et dictatorial et publièrent leur Encyclopédie (1751-1766). Vingt-huit volumes sortis des presses s'engagent pour les faits, l'anti-autoritarisme, le rationalisme et la générosité. Mme de Pompadour, maîtresse du roi Louis XV, a permis à l'Encyclopédie de voir le jour. Avec elle, un soupçon de féminisme s'infiltre dans ce projet, contrastant avec la misogynie banalisée et acceptée par la société d'aujourd'hui. L'exposition de Ken Aptekar à Autun, en France, met puissamment en relief le contraste entre les valeurs politiques réduites d'aujourd'hui et l'impulsion révolutionnaire du projet humanitaire de Diderot.
BREAKING NEWS / FLASH INFO (2019). Onze impressions au jet d'encre d'archives de 80 cm sur 80 cm, s'inspirent d'images tirées de planches de l'Encyclopédie pour sensibiliser le public aux menaces grandissantes qui pèsent sur le raisonnement fondé sur la connaissance, les preuves scientifiques et la liberté personnelle face aux manipulations autoritaires. .
A SHORTER ENCYCLOPEDIA (2003). Six impressions au jet d'encre d'archives de 57 cm x 76,5 cm, sont inspirées par Madame de Pompadour. Bien que La Pompadour ait réussi à convaincre Louis XV de soutenir la publication de l'Encyclopédie, les connaissances qu'elle offrait aux Français n'incluaient pas les réponses aux questions qui, selon Aptekar, pourraient être au cœur de sa vie. Il a donc créé une sorte d'appendice pour elle, adaptant l'œuvre de la publication originale à ses rêveries personnelles.
La vidéo THREE ACTS montre la transformation d'Aptekar en Louis XV, puis en Madame de Pompadour. Le tournage s'est déroulé dans les appartements privés de Louis XV et de Mme de Pompadour au Château de Versailles et dans le studio parisien d'Aptekar. "Au-delà de la dérision, de l'ironie, Ken Aptekar use de cette mascarade pour aborder la question de l'amour, de l'ambition, du pouvoir qui rapprochent ou éloignent les hommes." – Anne-Laure Flacelière, musée MAC VAL, Vitry-sur-Seine.